3. Split the DVD
Load up IFOEdit and hit the "Open" button. The goal here is to pick the set of VOBs that contains the main movie (not the bonus materials/menus). In most cases, these are the ones that take-up the most space. Again, in this case, they are VTS_01_x.xxx. So load up the file called, "VTS_01_0.IFO" into the program. Then go to the "VOB Extra" menu and select "Split to 2 DVD-Rs" as depicted below.
From here you will see a dialog similar to the below figure. There is no need to change any of the options; the defaults will work just fine. We do however need to fill in the two paths we created before into "Destination directory" and "2nd Dest. directory" as I have done below.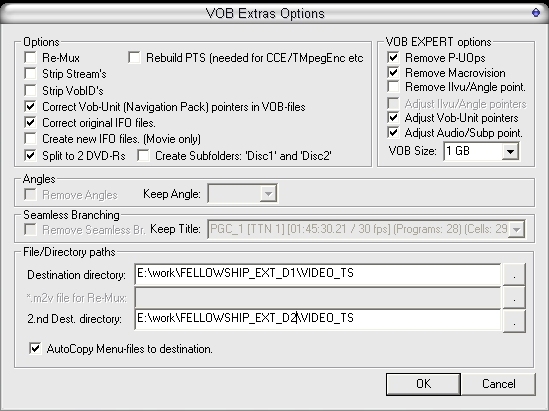 When you have done so, hit "OK"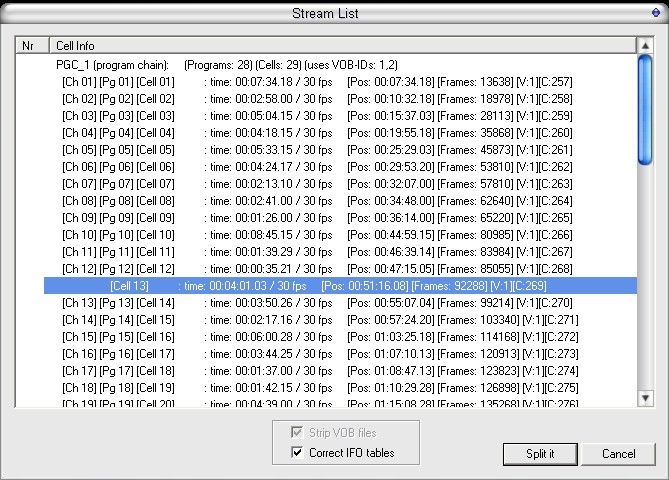 You will then get the Stream List dialog showing all the chapters and cells contained in this title-set. The Cell where the layer-break is located show be preselected by IfoEdit. I would recommend keeping it as your split point. Some prefer to select another point (which is fine) and in some cases you may have to select a different point. When you ask?
Some times splitting right at the layer-break is a bad idea. More on this later. Hit "Split it" and wait about 10-15 minutes while the software splits and reconstructs the files for us.
When the software finishes, exit it and reload it!